Faculty for this Series


Rachel Schipper, Your Guide
Hi! My name is Rachel, and I'll be your guide for this offering. I'm a mom, lawyer, and the founder of Curated Wellness.
I have about twenty years of diverse wellness training, including nutrition, meditation, counselling, yoga, and lifestyle design. I've studied with some of the world's top health and wellness experts, including Dr. Andrew Weil, Director of the Arizona Center for Integrative Medicine; Dr. Deepak Chopra, leader in the field of mind-body medicine; Dr. David Katz, Director of Yale University's Prevention Research Center; Dr. Walter Willett, Chair of Nutrition at Harvard University; Geneen Roth, bestselling author and expert on emotional eating; Ben Wong and Jock McKeen, founder of the Haven Institute; Shiva Rea, yoga teacher and pioneer; Regena Thomashauer, Founder of Mama Gena's School for Womanly Arts, and many other leading researchers and wellness authorities. I hold degrees from the London School of Economics, Osgoode Hall Law School, the University of Toronto, and the Institute of Integrative Nutrition.
But a lawyer? Well, yes. I was a lawyer on Wall Street. It was pretty rad. That experience taught me a lot about health and happiness - but I'd been searching for ways to live better for a long time before I became an Esquire.
I put the power of legal analysis together with my deep knowledge about wellbeing to curate holistic offerings for urban professionals. I run pretty awesome workshops and design wellness programs for great organizations, and coach people 1:1. When I became a mom, I realized that no one was curating wellness for us. And we need it! So, the New Mom Dream Team was born (and they are beautiful!).
It's my pleasure to put my finest research and (softie) cross-examination skills together to make your experience of motherhood as wonderful as it can be. See you in the videos!
Kitty Cavalier, Seductress
Kitty Cavalier is the author of Sacred Seduction: A Guidebook, Memoir and Tribute to the Art of Seduction. Kitty travels the world offering workshops, retreats and experiences teaching how to use seduction, not as a tool of manipulation, but as a spiritual practice and a pathway to a pleasurable, sensual, well-lived life.

Munira Hudani, Pelvic Floor Physiotherapist
Munira Hudani is a registered physiotherapist who graduated with a Masters in Physical Therapy from the University of Toronto in 2009. The latter half of her career has been devoted to women's health and improving the awareness of women's health concerns in her community. Her passion for physiotherapy has enabled her to help countless women throughout their pregnancies and post-partum to help restore their bodies from the inside out, literally. She is also certified Pilates Instructor (Pelvic Floor Pilates) and is a certified Acupuncture Practitioner.
Elisse Peltz, Therapist and Yoga Instructor
Elisse Peltz, MSW, has been working in the healing profession for fifteen years. She helps individuals, couples, adolescents, new moms, young men and families who are dealing with: anger, anxiety, self esteem, feeling overwhelmed, depression, co-dependency and shame, grief and loss, interpersonal skills, life transitions, love, sex and intimacy, loneliness, relationships, mindfulness training, personal development, sleep and stress management.

Elisse views the body and mind as a whole and aims to identify and treat the source of suffering by moving beyond negative past experiences, fears and bad habits. This holistic approach to psychotherapy is based on the understanding that all systems of the body and mind operate together to create and sustain health.
Elisse completed her MSW at Smith College in 2001, and did yoga teacher trainings at Yoga People in New York and a restorative teacher training at Yogaspace in 2006. She became a certified Phoenix Rising Yoga Therapy Practitioner in 2008. Most recently Elisse completed a 500-hour yoga teacher training and restorative teacher training at Octopus Garden Yoga Centre in Toronto, Canada.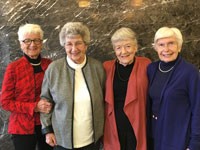 The Elders
(From Right to Left)
Patricia is a mother of three, two boys and a girl. She is is also a psychiatrist and psychoanalyst, and holds and MSc from a fellowship in polio research. She was one of 15 women in a medical school class of 110 people during wartime, graduating in 1947. She stayed home while her kids were young, taking a break from her studies and work during that time. She returned to work as the kids were older, and had a robust practice until she was 88 years old.
Pamela became a mom in 1956, and has five kids. She is also an architect and entrepreneur who grew a successful firm (and made her husband a junior partner!) building seniors' homes, schools, hospitals and all kinds of public buildings. She stared a research company with national scope to complement her work on public facilities geared towards elderly and disabled. She worked until she was 84. Her saving graces were late nights, an office close to home, playpens, gardens and one hell of a "get it done" attitude.
Maxine is a mother of three girls. She became a mom at the age of 21, and had three kids by 26. She left university after two years to be a full-time home maker, and returned to university in her 60s when the kids had grown up. She is deeply passionate about childcare, and applied this natural affinity to cultivating a rich home experience as well as pioneering the preschool system and especially bringing music into the classroom.
Margaret became a mom at the age of 25, and has five kids. She was a stay-at-home-mom (and later a stay-at home grandma), doing the million things that go into running a home life for a large family. At 48, she went to university, and took on the accounting role full time for the family business. She loves to dance.