Meet Your Dream Team
Rachel Schipper, Your Guide
Hi! My name is Rachel, and I'll be your guide for this offering. I'm a mom, lawyer, and the founder of Curated Wellness.
I have about twenty years of diverse wellness training, including nutrition, meditation, counselling, yoga, and lifestyle design. I've studied with some of the world's top health and wellness experts, including Dr. Andrew Weil, Director of the Arizona Center for Integrative Medicine; Dr. Deepak Chopra, leader in the field of mind-body medicine; Dr. David Katz, Director of Yale University's Prevention Research Center; Dr. Walter Willett, Chair of Nutrition at Harvard University; Geneen Roth, bestselling author and expert on emotional eating; Ben Wong and Jock McKeen, founder of the Haven Institute; Shiva Rea, yoga teacher and pioneer; Regena Thomashauer, Founder of Mama Gena's School for Womanly Arts, and many other leading researchers and wellness authorities. I hold degrees from the London School of Economics, Osgoode Hall Law School, the University of Toronto, and the Institute of Integrative Nutrition.
But a lawyer? Well, yes. I was a lawyer on Wall Street. It was pretty rad. That experience taught me a lot about health and happiness - but I'd been searching for ways to live better for a long time before I became an Esquire.
I put the power of legal analysis together with my deep knowledge about wellbeing to curate holistic offerings for urban professionals. I run pretty awesome workshops and design wellness programs for great organizations, and coach people 1:1. When I became a mom, I realized that no one was curating wellness for us. And we need it! So, the New Mom Dream Team was born (and they are beautiful!).
It's my pleasure to put my finest research and (softie) cross-examination skills together to make your experience of motherhood as wonderful as it can be. See you in the videos!
Lisa Caron, Birth and Postpartum Doula
Like you, doula and newborn parenting coach Lisa Caron has seen the word motherhood defined numerous ways over the years. Is it protective mama bear? Is it let the baby cry it out? Is it all about the baby? Is it all about the baby gear? Is it all about the family?
With two decades of real-life, in-the-trenches experience coaching hundreds of women and their families through childbirth, breastfeeding, and parenting their newborn, her view is different. Lisa appreciates that motherhood is a moment-to-moment experience and not about what the neighbours or a book, say you must do. Motherhood is the choices you make, everyday. It's finding and listening to your inner wisdom. Building the community that helps you raise a strong secure child. It is about balance.
Lisa brings calm, reassurance and a patient ear to nursing mothers and babies. She helps women get up and running to meet their breastfeeding goals. Lisa has devoted thousands of hours of study and experience to become an expert in helping women be confident breastfeeding mothers.

Along with supporting new families in the comfort of their homes as a certified doula, Lisa has published two books with Dr. Lisa Doran. Joyful Birth: More Childbirth Stories Told by Doulas, and Bearing Witness: Childbirth Stories Told by Doulas. Lisa also teaches newborn baby care classes at one of Toronto's leading maternity hospitals.
Kitty Cavalier, Seductress
Kitty Cavalier is the author of Sacred Seduction: A Guidebook, Memoir and Tribute to the Art of Seduction. Kitty travels the world offering workshops, retreats and experiences teaching how to use seduction, not as a tool of manipulation, but as a spiritual practice and a pathway to a pleasurable, sensual, well-lived life.

Munira Hudani, Pelvic Floor Physiotherapist
Munira Hudani is a registered physiotherapist who graduated with a Masters in Physical Therapy from the University of Toronto in 2009. The latter half of her career has been devoted to women's health and improving the awareness of women's health concerns in her community. Her passion for physiotherapy has enabled her to help countless women throughout their pregnancies and post-partum to help restore their bodies from the inside out, literally. She is also certified Pilates Instructor (Pelvic Floor Pilates) and is a certified Acupuncture Practitioner.
Eva Klein, Infant and Child Sleep Consultant
Eva is a Certified Infant and Child Sleep Consultant through the International Maternity Institute and is the founder of My Sleeping Baby. Eva's main goal is to assist her clients establish healthy sleep habits for their children. After experiencing the debilitating effects of chronic sleep deprivation from her two children, Eva was inspired to help families overcome their sleep challenges. Eva truly empathizes with her clients' sleep troubles and personally invests herself in their sleep journey.
Kate Love, Coach and Advocate
Kate Love is a mama of twins, a yoga devotee and the owner of Sage Coaching where she works with women in times of transition or change, especially new mothers. Kate's power lies in her ability to create a safe container for her clients to hold doubt, fear and resistance. She champions them to seek out their truth and embody it in their daily lives.
Cecily Milne, Yoga Instructor
Cecily is the Founder of The Yoga Element. She views movement as an incredible vehicle with which to explore the body's capacity. Learning to better understand the body and its movement patterns drives Cecily's desire to teach others, showing her students how they can feel and move better than they ever thought possible. As the co-founder of Yoga Detour, she teaches others how they too can become movement instructors through a ground-breaking multi-disciplinary Yoga Teacher Training program.Keeping your body healthy as a new mom can seem like the last thing you have time for. In this segment you'll learn a simple set of exercises that can be integrated into your everyday routine and is accessible anywhere, regardless of the amount of time and space you have. The routine targets primary areas of stress on a new mom's body: wrists, shoulders and low back.
Samantha Montpetit-Huynh, Pre and Postnatal Exercise Specialist
Samantha Montpetit-Huynh is the mother of two beautiful girls and the co-founder of Bellies Inc., a company that has created an entire system to not only get rid of the dreaded "Mummy Tummy" and pelvic floor dysfunction, but create core confidence during motherhood. Samantha is known extensively in her field and has appeared on Breakfast Television, CTV News, CHCH and Rogers Daytime. She is also the resident fitness expert on the Marilyn Denis Show and helped to create the Today's Parent Healthy Pregnancy Guide.
Elisse Peltz, Therapist and Yoga Instructor
Elisse Peltz, MSW, has been working in the healing profession for fifteen years. She helps individuals, couples, adolescents, new moms, young men and families who are dealing with: anger, anxiety, self esteem, feeling overwhelmed, depression, co-dependency and shame, grief and loss, interpersonal skills, life transitions, love, sex and intimacy, loneliness, relationships, mindfulness training, personal development, sleep and stress management.

Elisse views the body and mind as a whole and aims to identify and treat the source of suffering by moving beyond negative past experiences, fears and bad habits. This holistic approach to psychotherapy is based on the understanding that all systems of the body and mind operate together to create and sustain health.
Elisse completed her MSW at Smith College in 2001, and did yoga teacher trainings at Yoga People in New York and a restorative teacher training at Yogaspace in 2006. She became a certified Phoenix Rising Yoga Therapy Practitioner in 2008. Most recently Elisse completed a 500-hour yoga teacher training and restorative teacher training at Octopus Garden Yoga Centre in Toronto, Canada.
Dr. Stephanie Peltz, Naturopathic Doctor
Dr. Stephanie Peltz is a naturopathic doctor with a special interest in women's and children's health. This includes the treatment of gynaecological issues such as fertility concerns, preconception care, pregnancy, postpartum care, PMS, hormonal imbalances, and menopause. In children she addresses issues relating to skin, growth, nutrition and food sensitivities, acute infections, emotional wellness and more. Other areas of expertise include optimizing digestive health, correcting endocrine abnormalities, addressing stress-based illness, and managing mental health. In her ideal world she gets a chance to meet and treat the whole family.
Stephanie is also a certified yoga instructor and birth doula. She completed her naturopathic studies and the Boucher Institute of Naturopathic Medicine in New Westminster, British Columbia, and received a Bachelor of Science in Chemistry at McGill University in Montreal.
Outside of the clinic Stephanie enjoys playing with her four year old son, testing out new recipes, going for long walks with her dog Cypress, and practising yoga.
Lara Rosenthal, Acupuncturist and Chinese Herbologist
Lara Rosenthal, L.Ac is an acupuncturist and Chinese herbologist who has been specializing in women's health and fertility for over ten years. Her philosophy of practice is to work with the body from the foundation up, to coax it back into its natural state of balance where it can function optimally. She maintains a private practice in Manhattan and provides acupuncture services at NYU Medical Center's Fertility Center. She has served as a faculty member at Pacific College of Oriental Medicine in New York, and as a clinical supervisor at the NYU Hospital for Joint Diseases' Initiative for Women with Disabilities. Her work on acupuncture and in vitro fertilization has been published in Fertility and Sterility, and The Journal of Chinese Medicine.
Rochelle Schieck, Founder of Qoya
Rochelle Schieck is the founder of Qoya, a movement system based on the idea that through movement, we remember. We remember our essence is wise, wild, and free. She has spent the last 15+ years traveling the world as a student and teacher to North and South America, Europe, Africa, India, Southeast Asia, Australia and New Zealand. In the last 10+ years, she has led over 4,000 movement classes, facilitated hundreds of private sessions and taken women on over 20 retreats to 6 different continents (next stop, Antarctica!).
Lesley-Anne Scorgie, Founder of MeVest
Lesley-Anne Scorgie is the Founder of MeVest, a money school. She's also the best-selling author of Well-Heeled, the Smart Girl's Guide to Getting Rich, and Rich by Thirty: Your Guide to Financial Success. She has spoken about financial literacy on numerous television programs such as the Oprah Winfrey Show, Montel, The Social, MTV Live and More. Her writing has appeared in the Globe and Mail, Metro and the Toronto Star. Lesley-Anne lives in Toronto.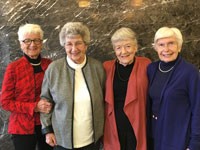 The Elders
(From Right to Left)
Patricia is a mother of three, two boys and a girl. She is is also a psychiatrist and psychoanalyst, and holds and MSc from a fellowship in polio research. She was one of 15 women in a medical school class of 110 people during wartime, graduating in 1947. She stayed home while her kids were young, taking a break from her studies and work during that time. She returned to work as the kids were older, and had a robust practice until she was 88 years old.
Pamela became a mom in 1956, and has five kids. She is also an architect and entrepreneur who grew a successful firm (and made her husband a junior partner!) building seniors' homes, schools, hospitals and all kinds of public buildings. She stared a research company with national scope to complement her work on public facilities geared towards elderly and disabled. She worked until she was 84. Her saving graces were late nights, an office close to home, playpens, gardens and one hell of a "get it done" attitude.
Maxine is a mother of three girls. She became a mom at the age of 21, and had three kids by 26. She left university after two years to be a full-time home maker, and returned to university in her 60s when the kids had grown up. She is deeply passionate about childcare, and applied this natural affinity to cultivating a rich home experience as well as pioneering the preschool system and especially bringing music into the classroom.
Margaret became a mom at the age of 25, and has five kids. She was a stay-at-home-mom (and later a stay-at home grandma), doing the million things that go into running a home life for a large family. At 48, she went to university, and took on the accounting role full time for the family business. She loves to dance.